Bare Necessities Upper / Lower Set - Black (FFL REQ.)
Introducing the BN Upper / Lower Set in Black! This striking set, which includes an upper receiver and a lower receiver, is mil-spec hardcoat anodized.

This item must ship to an FFL. Review our firearm & lower receiver purchasing guidelines before you buy.
Upper Specs:

M4 feedramps
6061-T6 aircraft aluminum
Mil-spec hardcoat Anodized
Includes port door
No T-marks
No forward assist
No shell deflector
100% Made in USA

Lower Specs:

Mil Spec Receiver Made of 7075 T6 Aluminum Billet
Magpul style trigger guard machined in
Flared Mag-well

Have us engrave your port door and/or upper receiver. Choose your graphics from the drop down menus.

See reference "CHART A" and "CHART B" tabs above.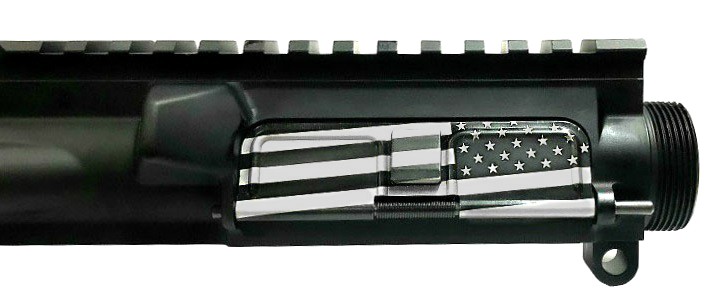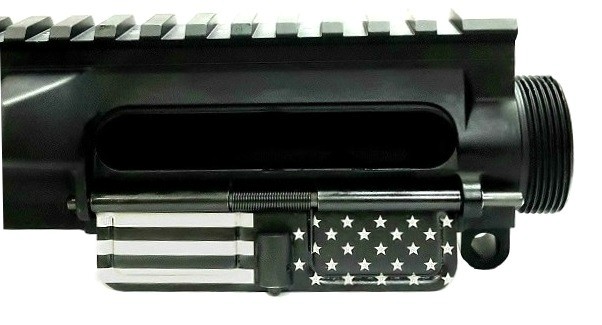 ---
| | |
| --- | --- |
| 1 | 2 |
| 3 | 4 |
| 5 | 6 |
| 7 | 8 |
| 9 | 10 |
| 11 | 12 |
| 13 | 14 |
| 15 | 16 |
| 17 | 18 |
| 19 | 20 |
| 21 | 22 |
| 23 | 24 |
| 25 | 26 |
| 27 | 28 |
| 29 | 30 |
| 31 | 32 |
| 33 | 34 |
| 35 | 36 |
| 37 | 38 |
| 39 | 40 |
| 41 | 42 |
| 43 | |
---
UPPER RECEIVER GRAPHIC
ENGRAVING REFERENCE CHART

H
AVE YOUR UPPER PRECISION LASER ENGRAVED

OUR LASER ENGRAVED UPPERS COME WITH A PERMANENT AND EXTREMELY GOOD LOOKING HIGH CONTRAST WHITE MARKING

| | |
| --- | --- |
| 1 | 2 |
| 3 | 4 |
| 5 | 6 |
| 7 | 8 |
| 9 | 10 |
| 11 | 12 |
| 13 | 14 |
| 15 | 16 |
| 17 | 18 |
| 19 | 20 |
| 21 | 22 |
| 23 | 24 |
| 25 | 26 |
| 27 | 28 |
| 29 | 30 |