Builder's Grade Builders Set - 15" M-LOK | Blue Titanium Battle worn | Tactical Machining Engravings
Unleash the beast within your rifle with the RTB Builders Set in Battle Worn Blue Titanium! This striking set, which includes an upper receiver, a lower receiver, and a handguard, is cerakoted in a battle worn pattern that combines Blue Titanium (BT) with attactive wear and tear for an unparalleled aesthetic. The lower in this set comes pre-engraved with a serial number. This item must ship to an FFL. Review our firearm & lower receiver purchasing guidelines before you buy.
Key Features
Eye-catching Design: The BT Battle Worn cerakote finish is not just durable, but is also guaranteed to make your rifle stand out.
Precision Machined: Each component is precisely machined for optimal fit and performance.
High-Quality Materials: Made from top-grade materials ensuring longevity and reliability in any conditions.
Customization: The handguard provides ample space for accessories and the upper and lower receivers are compatible with most standard AR parts.
Have us engrave your port door and/or upper receiver. Choose your graphics from the drop down menus.

See reference "CHART A" and "CHART B" tabs above.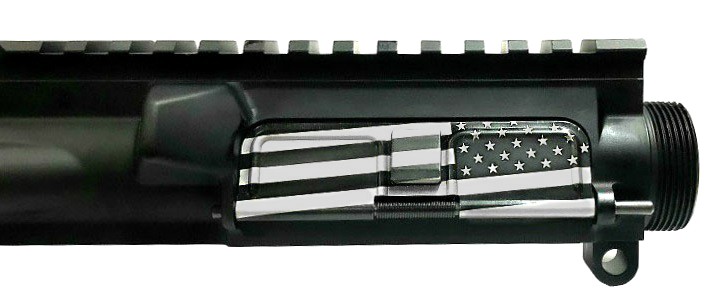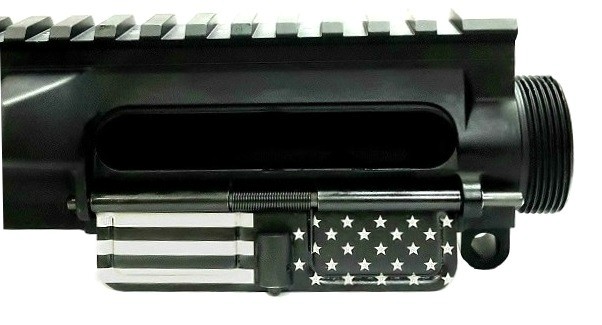 ---
| | |
| --- | --- |
| 1 | 2 |
| 3 | 4 |
| 5 | 6 |
| 7 | 8 |
| 9 | 10 |
| 11 | 12 |
| 13 | 14 |
| 15 | 16 |
| 17 | 18 |
| 19 | 20 |
| 21 | 22 |
| 23 | 24 |
| 25 | 26 |
| 27 | 28 |
| 29 | 30 |
| 31 | 32 |
| 33 | 34 |
| 35 | 36 |
| 37 | 38 |
| 39 | 40 |
| 41 | 42 |
| 43 | |
---
UPPER RECEIVER GRAPHIC
ENGRAVING REFERENCE CHART

H
AVE YOUR UPPER PRECISION LASER ENGRAVED

OUR LASER ENGRAVED UPPERS COME WITH A PERMANENT AND EXTREMELY GOOD LOOKING HIGH CONTRAST WHITE MARKING

| | |
| --- | --- |
| 1 | 2 |
| 3 | 4 |
| 5 | 6 |
| 7 | 8 |
| 9 | 10 |
| 11 | 12 |
| 13 | 14 |
| 15 | 16 |
| 17 | 18 |
| 19 | 20 |
| 21 | 22 |
| 23 | 24 |
| 25 | 26 |
| 27 | 28 |
| 29 | 30 |